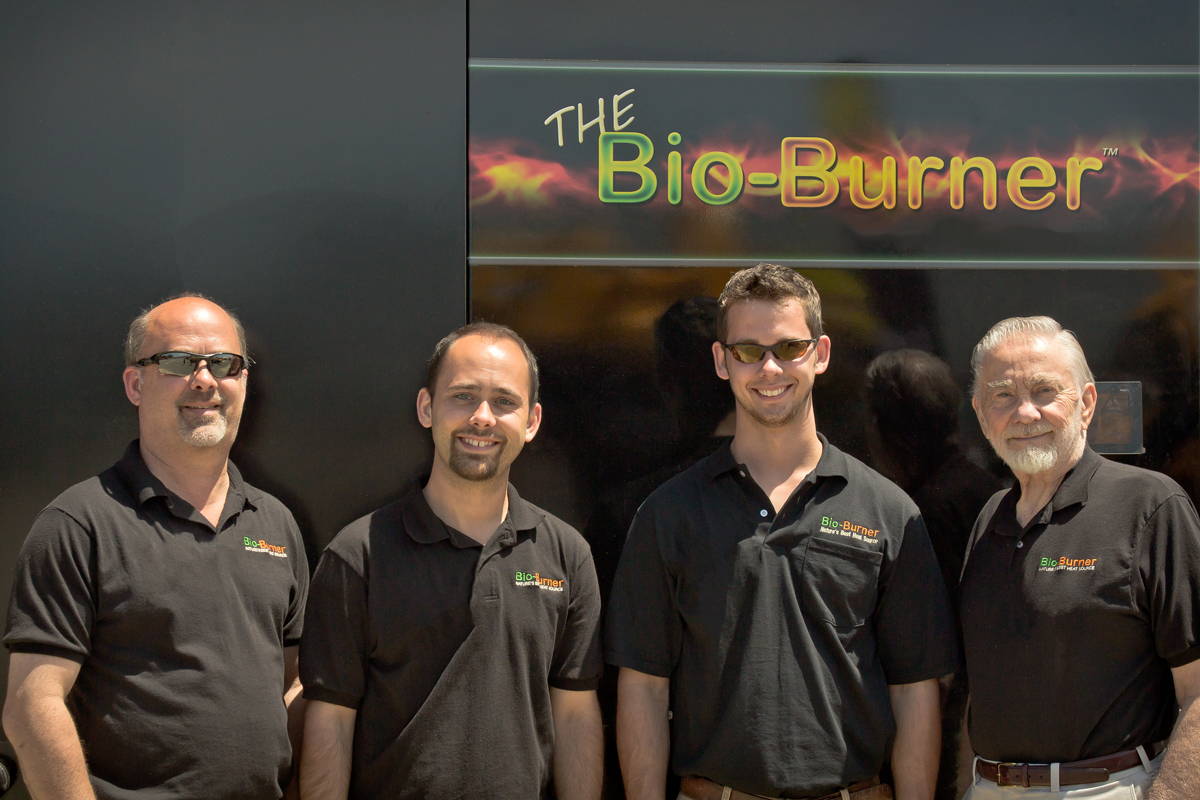 3 Generations (from left to right: Scott, Ben, Sam, & Don Laskowski)

The founding family of OrganiLock originally started the well-known international sawmill company named Wood-Mizer Products, Inc. in 1982.  Today Wood-Mizer is the world's leading portable sawmill producer.
In 2004 the founding family sold Wood-Mizer to its employees through an E.S.O.P.  A new company named LEI Products (Laskow Enterprises, Inc.) was later formed and began developing new technologies to manage the biomass waste streams created by the sawmill and lumber industry.
In 2009 LEI Products developed a system called the BioLiquidator which is a tissue digestion system for the disposal of animal carcasses such as fish, poultry, swine, cattle, and others.  This technology is used for animal mortality management, biological waste stream management, disease control, and liquid fertilizer production.
In 2010 LEI Products developed proprietary biomass heating systems – the "Bio-Burner" biomass boiler product line.  This technology utilizes waste biomass streams from the sawmill and lumber industry to create heat energy in the form of hot water for a variety of heating applications.
In 2013 LEI Products developed proprietary biomass drying & processing equipment.  This technology converts a wide range of biomass and other waste streams into value added products for a wide range of applications.
By year 2015 LEI Products expanded its offerings from biomass heating solutions to biomass waste stream management and the production of revolutionary soil & amendment product lines.  To better encompass everything the company has to offer, the name of the company was changed to OrganiLock, Inc.
In early 2018, OrganiLock submitted patent applications for its proprietary Nutrient Infusion Soil Technology (N.I.S.T.).  Because of N.I.S.T., revolutionary soil amendment products have been developed that re-enforce soil with organic matter and nutrients, rehabilitating any soil and reversing the damage caused by decades of traditional farming methods.
OrganiLock is now focused on expanding the use of their technologies internationally to solve waste stream problems, rehabilitate farmlands, and to play a role in feeding the growing world population in year 2050.
"A farmer went out to sow his seed. As he was scattering the seed, some fell along the path, and the birds came and ate it up. Some fell on rocky places, where it did not have much soil. It sprang up quickly, because the soil was shallow. But when the sun came up, the plants were scorched, and they withered because they had no root. Still other seed fell on good soil, where it produced a crop—a hundred, sixty or thirty times what was sown."